If your carpet has been through the natural lifestyle of most flooring, then you are in need of professional help to keep it looking new and inviting. However, many carpet cleaning companies take their customers to the cleaners rather than cleaning their carpets.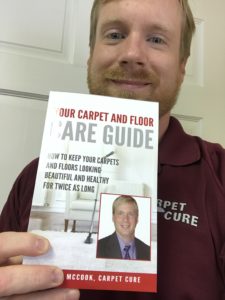 This guide is all about helping you find an excellent carpet cleaning company among the scam artists, unethical cleaners and the "exaggerators" out there today. It also is loaded with DIY tips for spot removal and maintenance cleaning. You'll learn how different lifestyles work better with certain types of flooring. We have entire section devoted to Area Rugs to show you how they are different and what to watch out for.
You'll learn:
The secrets to choosing a carpet cleaner you can trust
7 harmful tile cleaning techniques you should avoid
The 6 most common pitfalls of DIY carpet cleaning
12 reasons choosing the cheapest carpet cleaner is usually a bad mistake
And much, much more!
This book comes from 16 years of experience and education. We are all about helping those around us and that's what this book was created for. We will get it onto Amazon soon but in the meantime you can get your copy by calling our office at 478-405-9138