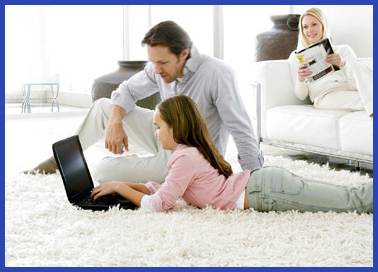 With carpet cleaning, who decides what collection or sequence of steps work the best together to achieve optimal results? Does "Mr. Carpet Cleaner" just make it up as he goes? (well, yea often that is the case). Is there an organization that has tested all the different cleaning processes on all the different fibers to determine what is best suited for each fabric and soiling condition?
Yes, There is! Fortunately for you, the consumer, such an organization does exist. It exists to protect you from uneducated, sometimes unethical cleaners who learn how to clean via YouTube, facebook or the the "school of hard knocks." This organization is called the IICRC (Institute for Inspection, Cleaning and Restoration Certification).
One of the great advantages of choosing a cleaning firm that is certified by the IICRC is the education in advanced chemistry and cleaning techniques that get applied to your job. The carpet manufacturing industry is constantly changing and the implementation of their improvements require certified professional cleaning firms to continue their education in order to understand how to properly clean today's modern textiles. Unfortunately, our industry is not regulated and cleaning firms are not required to be certified in order to operate. As a result, our industry gets filled with untrained, uneducated "carpet cleaners" trying to make a living. To help insure your protection against uncertified (and generally under-priced) cleaning operations, the world's leading carpet manufactures, Shaw and Mohawk, implemented a warranty policy in January of 2008 that requires consumers to have their carpet cleaned by an IICRC firm, utilizing the Hot Water Extraction cleaning method, in order to maintain their carpet warranty. You can see how important it is that you never choose a cleaning firm without current IICRC certification. I also must mention that the IICRC is the nation's most recognized body of certification. It is independent and non-profit. The IICRC has no hidden motive or agenda, does not own any schools or employ instructors, and does not promote specific product brands. It approves schools and instructors that meet the criteria established by the IICRC and also serves as a consumer referral source for Certified Firms and Inspectors. Please visit www.IICRC.org or www.CertifiedCleaners.org for more information.
Once you are confident in the education and experience of the professional cleaning firm you have chosen, you want to have an understanding of cleaning processes available to you and how they may or may not meet your needs. The cleaning methods that are approved by the IICRC are:
Absorbent Compound • Dry Foam • Absorbent Pad (bonnet cleaning) • Shampoo
Encapsulation • Hot Water Extraction
Each method has a set of guidelines for proper use. Results of each cleaning method primarily depend on the soiling condition of the carpet and the complete employment of the guidelines set up for that particular method. All of these methods are appropriate for regular maintenance cleaning for your carpet. However, when it comes to the need for restorative cleaning for your carpet some of these methods will not meet your needs.
Carpet Cure is experienced in each cleaning method and familiar with all types of soiling conditions. Based on our experience, we have chosen two of the approved methods as our primary cleaning process when cleaning inside the home. They are Hot Water Extraction (as required by Shaw and Mohawk), and Encapsulation. Dry Foam and Shampoo cleaning methods are sometimes used for specialty cleaning such as fine fabrics, upholstery and Oriental rugs.

So, the next question you must ask when deciding which process you may prefer is….Do you need Maintenance Cleaning or Restorative Cleaning?
Maintenance Cleaning: The process used for overall maintenance cleaning should adhere to the 5 basic principles of cleaning: dry soil removal, soil suspension, soil extraction, grooming, drying. If your carpet is in overall good shape, then a maintenance style carpet cleaning utilizing the Hot Water Extraction method is generally what we recommend to our clients. This ensures that unwanted soiling is removed which is key to enjoying your carpets appearance and getting the most "mileage" out of your carpet. General maintenance cleaning should be performed every 6 to 18 months depending on foot traffic and soiling conditions. Carpet protector should be applied after every cleaning to ensure that your carpet continues to repel dirt and spills. Your carpets protective finish is one of the key elements that determine how long your carpet will last and how well it will clean up each time.
Restorative Cleaning: The process used for restorative cleaning will adhere to the 5 basic principles of cleaning but in a much more aggressive manner. Restorative carpet cleaning processes will often combine one or more approved cleaning methods so that your carpet is not further damaged during cleaning. That's right, you don't just add more cleaning solution or scrub it harder. We have seen many carpets permanently damaged from an inexperienced cleaner trying to restore it without the proper knowledge and tools. Since there is generally a greater concentration of accumulated soiling in these situations, agitation is used to a large degree to make the pre vacuuming more effective and to assist with soil suspension. Additional cleaning solutions are often needed as well. A water miscible solvent is used for unwanted substances that are not water soluble. An oxidizer is often used on certain fiber types to give greater natural deodorization and to help emulsify finer soils that are trapped in the abrasions and imperfections of the fibers. Oxidizing is also preferred when dealing with pet stains. Restorative carpet cleaning should be performed if your carpet has a high degree of visible soiling, has not been cleaned in over 2 years, if you have pet stain and odor concerns, or if you are trying to sell your house. We often have clients that simply want us to the do the best we can do. Our restorative cleaning process goes WAY beyond what other cleaners even think about doing. If your carpet cleans up well then you should definitely have carpet protector re-applied immediately following the cleaning.
Our cleaning technician will be able to evaluate your soiling condition and prescribe an appropriate cleaning method and process for you. This will be done by gaining an understanding of your carpets age, fiber type, soiling condition, wear, amount of time since your last cleaning, the current state of your carpets protective finish and your overall motivation or purpose for this cleaning.